Phonics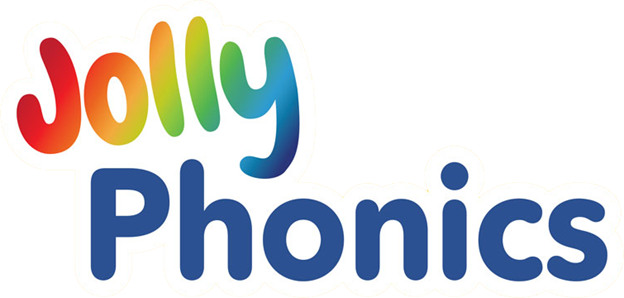 As a school we follow the Jolly Phonics structure throughout Foundation and Key Stage 1.
Effective teaching of reading includes teaching children to decode words by sounds, rather than recognising whole words. Our focus in Foundation Stage and Key Stage One is synthetic phonics, in which words are broken up into the smallest units of sound (phonemes).
Children are taught the letters (graphemes) that represent these phonemes and also learn to blend them into words. So, at its most basic, children are taught to read the letters in a word like c-a-t, and then merge them to pronounce the word cat. A phoneme can be represented by one, two, three or four letters (such as "ough" in "dough").
Children are systematically taught around 40 phonic sounds and the combination of letters used to represent each sound.
In EYFS the children use Jolly Phonics which teaches the children new sounds through actions, songs and stories focusing on Step 1.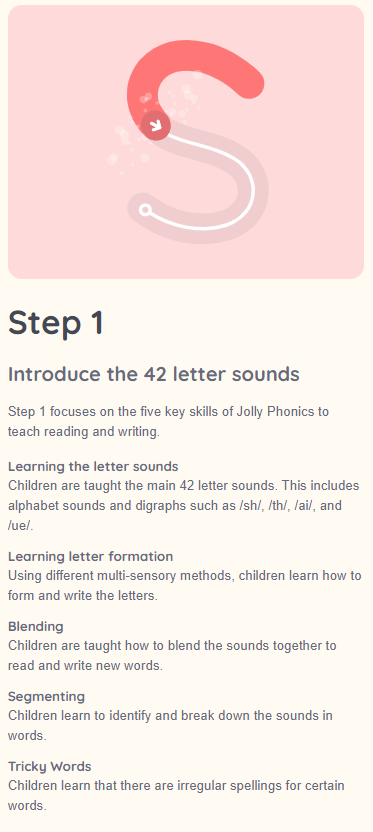 In Year 1, and for other children across school who need extra support, alternative sounds are taught which allows for skills and previous learning to be built on. These are covered in Step 2 and 3.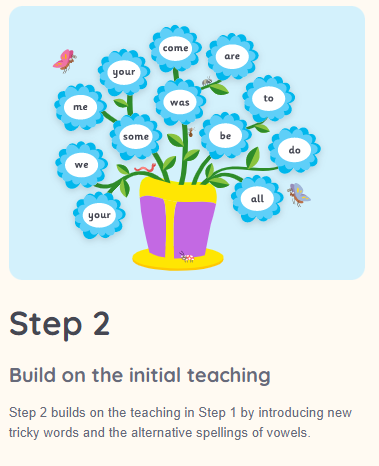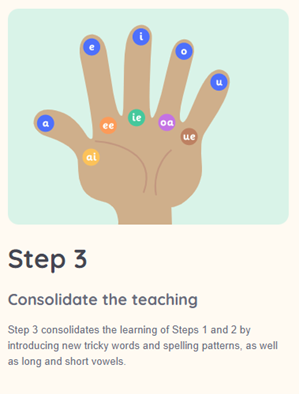 Through all the sets children are taught to add sound buttons to support the segmenting or words. The children then use their phoneme fingers to segment and blend the sounds together.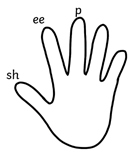 Children are also taught from EYFS onwards to read and spell 'tricky words', which are words that have an unusual spelling pattern and do not follow the phonics patterns and rules.
Phonics screening check
In the summer term of Year One, your child will participate a statutory phonics screening check. All children in Year One will take the check and any Year Two children who did not meet the expected standard in previous check will take the check again.
At the beginning of the Summer Term a meeting will be held to provide details about the check.
Ways to support your child:
Modelling segmenting and blending words.
Reading the book banded book sent home with your child 5 times a week.
In Year 1 accessing Spelling Shed to consolidate reading and spelling words with key sounds.
Reading and writing common exception words little and often
Websites and links:
https://www.bbc.co.uk/cbeebies/shows/alphablocks
https://www.phonicsplay.co.uk/
https://www.youtube.com/watch?v=TvMyssfAUx0
https://www.youtube.com/watch?v=R087lYrRpgY
Please refer to the Phonics Policy attached below.